Features/Reviews
Starlight Review Feature of the Week is Author, Katherine Wyatt
I have read Katherine Wyatt's book, THE CORE OF THE ESSENCE.
I was amazed at the depth and light in this book.  I found some of the most breathtaking poetry, she's a writer of ethereal proportions.  Having acquired her Masters Degree in World Religions and Humanities.  I'm thrilled to feature Katherine and share with all of you a taste from her book, THE CORE OF THE ESSENCE.
"Poetry really is the art of ones soul.   As word emerges from within and allows itself to flow, like paint on a canvas so is word to paper."  -Quote by Kristine Kenyon
Like art, this is how I view her writing.
Katherine, otherwise known as "Trinity" in some writing circles was born in Pennsylvania. As she tells us on the jacket of her new book, she came from a long line of artists and writers dating back into the 1500′s.  Her Mother was a cartoonist, whose work has been published all over the world and her father, a writer, wrote in the corporate world. He started his career in newspaper journalism as a young man.  It's wonderful to follow in such creativity.
Ms. Wyatt's book was published this month by Publish America and is available for purchase in soft back now on their site by clicking their link.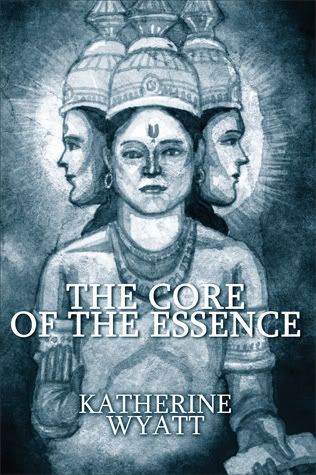 "Look within yourself if you want to meet me"
- Katherine Wyatt
WITHIN
by Katherine Wyatt
I am the sound of the wind rustling through feathers
As the eagle soars between mountain peaks
I am the space between the last breaths of the dying
As they leave life behind for the next and grow weak
I am the gray that floats in the fog when changes arrive
Holding the potential for new choices; neither black or white
I am the eye of the storm where it is quiet and I set the its course
Yet having no motion I am the measure of the hurricane's great force
I am the silence that the birds sing to in the night
I am the blood coursing in their veins and the will that gives them flight
I am the homeless woman on the corner whose eyes you look through
I am the dark and the light that revolve within you
I am the proton, electron and neutron at play
The saints in their glory and the one who betrayed
I am without bounds and wear time as a cloak
With my hand I spin the cosmos with one brief stroke
I am a bug on a leaf on the bamboo tree
Look within yourself if you wish to meet me
~ * ~
When I read "Within" a sense of warmth cam over me. It was almost as if I could hear the quietness, the stillness within the poetry, giving me a revealing eye into the soul of the poetess as she reflects within. Her words here have made an imprint on me.
This Review by: Kristine Kenyon
Notes about the Author:  Katherine Wyatt, aka Trinity runs a forum at FCN called The Muse every other Wednesday.  You can be inspired by her there. She has an extensive portfolio of work and it can be found in various places on the web. She can be found as Trinity at www.wordmachinist.com, www.flexwriterscreativenetwork.net – My[____] and Facebook as well.  And, last but not least you can find her here at katherinewyatt.wordpress -